CONFERENCE PRICES
Online booking will also incur a small booking fee of 30 cents per registration. Earlybird Registration closes September 11th, 2015.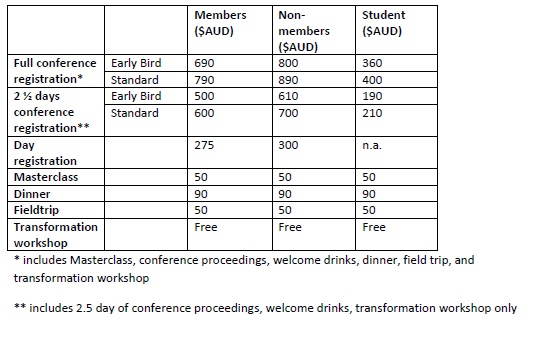 Looking for a discount?
Before registering for the 2015 conference, have you considered becoming a member of ANZSEE? Members can save up to $110 when registering. Click here to find out more, or to become a member today.
---
FULL CONFERENCE REGISTRATION 
Delegates will enjoy the full program that is on offer at the 2015 conference, including; masterclass, all conference proceedings, welcome drinks, Tuesday evening dinner, fieldtrip, and transformation workshop.
Registrants will be required to indicate whether they are attending some particular events for catering purposes so please be sure to do this during the registration process.
---
2.5 DAY CONFERENCE REGISTRATION 
Those who are wishing to only attend the conference proceedings, with the option of some indvidual sessions would be best to register for the 2.5 day conference which includes the main conference proceedings, welcome drinks and transformation workshop, but no additional sessions or networking events.
Registrants will be required to opt in for these additional sessions on the registration page.  
REGISTER FOR 2.5 DAY CONFERNECE
---
DAY REGISTRATIONS & INDIVIDUAL SESSIONS
Those who wish to only attend select days, select sessions, or networking events may customise their conference by choosing only those in which they are interested in.
Please be sure to select all sessions you will be attending during the registration process and review before finalising